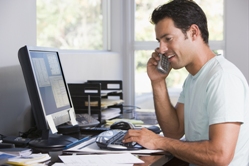 For many small business owners and the self-employed, home is the office. With just a room or two dedicated to running a business, this can often mean a home office overflowing with marketing materials, product samples and unused equipment.
We help optimize and de-clutter your workspace by providing accessible, flexible and cost-effective home office storage solutions to store bulk material and seldom-used items. Work more efficiently and focus on the tasks at hand without the distraction that clutter creates.
At Stoneybrook West Self Storage, we work hard to make things simpler for our home office storage customers. We offer business storage solutions such as package delivery acceptance, business centres and excellent prepayment discounts to help you save time and money. We also understand that your home office storage needs may change from time to time. That's why you are able to upsize or downsize your storage space whenever the need arises, without penalty. Drop by for a cup of coffee and a tour.
Hassle-free and convenient storage in your neighborhood
Store your records for as short as 1 month, and cancel any time with 7 days' notice prior to your monthly due date.
Upsize or downsize your records and document storage space whenever your needs change, without penalty.
You can access your unit 7 days a week, 365 days a year. Many of our records and document storage centres have extended access hours.
We sell high-quality archiving boxes that protect your important files.
The space you need
Choose the space that best fits your needs: big or small, climate-controlled or not, exterior access or interior access. Climate-controlled units can help preserve temperature- and humidity-sensitive items including documents and digital media.
Our loading bays are spacious, capable of handling significant loads. Your movers and staff will thank you.
We offer complimentary use of dollies, heavy-duty moving carts and pallet jacks (most records and document storage stores) so you can easily move records in and out of our storage facilities. We also offer ample free customer parking.
Stretching your storage dollars
Our prices are very competitive.
We offer excellent pre-payment discounts.
Unlike many of our competitors, we bill once a calendar month, not every 4 weeks (28 days). That's 13 times a year versus our 12.
We don't charge a security deposit on your records and document storage.
We don't charge extra fees each time you access your unit.
We don't ask you to buy insurance from us. You are free to use your own provider.
Offering peace of mind
Our records and document storage locations offer 24 hour digital video recording and security coded entry gates.
Our facility features, intercoms and motion-controlled lighting systems in hallways. Read more about our state-of-the-art security systems.
You can choose who can access your unit. You can even store sensitive materials separately in a unit accessible only by you.
Use your own lock and keep the keys.
Resident managers are onsite.
Read the many other reasons why Stoney